When:
August 2, 2019 @ 6:00 pm – 7:30 pm
2019-08-02T18:00:00-04:00
2019-08-02T19:30:00-04:00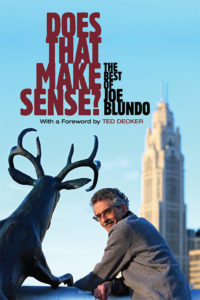 Columbus Dispatch columnist, Joe Blundo, joins us for a discussion about his newest collection of articles, Does That Make Sense? The Best of Joe Blundo. 
About the author:
Joe Blundo began his writing career at the Columbus Dispatch in 1978 and has been writing about Columbus ever since. In 1997, Joe was given his own column titled "So to Speak," which quickly became one of the most popular sections of the paper. Raccoon dinners, Abe Lincoln impersonators, and things in nature that aren't fair are just a few of the topics Blundo explores in this collection of the best of his newspaper columns. 
The columns range from hilarious to poignant to indignant—but all contain his unique voice and somewhat tilted way of looking at life. He's especially drawn to the quirks that make Columbus what it is, people with a passion they can't stop talking about, and recording the milestones in his family's life. Sometimes he spouts off on the big issues of the day but more often he looks for the little things that others might not notice.